B.I.G. (Believe In G.I.R.L.) Event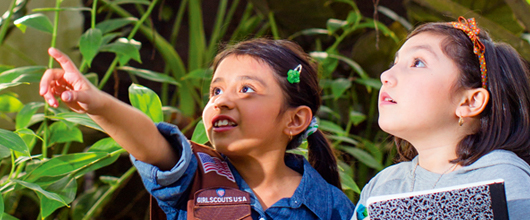 Date:
Sat Sep 28, 9:30 AM
- 2:00 PM
Location:
Louisiana State University
Level:
Grades K-1, Grades 2-3, Grades 4-5, Grades 6-8, Grades 9-10, Grades 11-12, Adult
Open to all girls, grades K - 12
Join over 2,000 Girl Scouts as we take to the campus of Louisiana State University to participate in the Girl Scout's B.I.G. ("Believe In G.I.R.L.") event. Girl Scouts from across Louisiana will kick off another year of Girl Scouting by visiting over 100 different displays and demonstrations on the multitude of opportunities that exist for girls to explore. The hands-on demonstrations and activities will focus on Girl Scout Initiatives such as STEM, life skills, the outdoors, entrepreneurship, civic action, the arts, and much more.
Presentations and displays from the US Coast Guard, Electric Girls, Baton Rouge Zoo, Ochsner Fitness Center, the LSU Museum of Natural Science, the Delgado Community College Automotive Department, the LSU Departments of Construction, Math, Engineering, and many more! We will conclude the day with a council bridging ceremony for all attendees to participate in.
When: Saturday, September 28, 2019
Time: 9:30 a.m. – 2 p.m.
Where: Louisiana State University
Fee: $10 per girl, and adults are free. Free patch to first 2,000 girls who register for the BIG event. Girls who renewed their membership as part of Spring renewal will receive discounted pricing ($7).
Capacity: No Minimum/Maximum
Registration: Registration is open online at www.gsle.org/ebiz
Staff Support: Kevin Shipp at kshipp@gsle.org or 504-733-8220, ext. 2243.