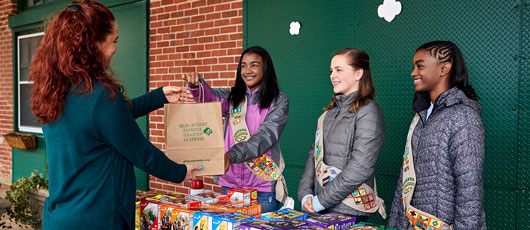 Date:
Sat Feb 01, 5:00 PM
- 8:00 PM CST
Location:
New Orleans Headquarters
Category:
Entrepreneurship
Level:
Grades 4-5, Grades 6-8, Grades 9-10, Grades 11-12
Open to girls, ages 4 - 12
Come learn how to be a Cookie boss, have fun and meet your cookie goals for this season! Join Empower Your Cents to sharpen your skills and earn badges while working with ladies in the business world. Girls will receive real pointers and know-hows from leaders all while earning a Cookie CEO, Business Plan, Customer Loyalty or R&D badge.
Event Code: CCW401
Fee: $10 per girl, includes the age-appropriate badge
Registration Instructions: Register online through eBiz. Final confirmations will be emailed after registration is closed.
Registration Opens: Now Deadline: January 26
Note: Girls should dress in comfortable clothes. Girl Scout uniforms are encouraged.
Staff Contact: Kevin Shipp at kshipp@gsle.org or 504-733-8220 ext. 2243