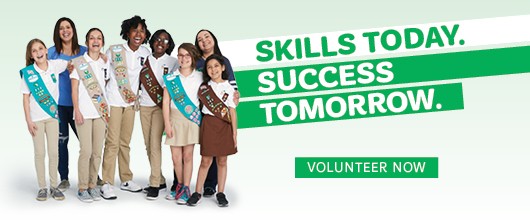 Beat the rush. Start a troop this summer!
Don't miss the chance to embark on the adventure of a lifetime right alongside your girl--unleash your inner leader as she discovers hers!
This summer become a Girl Scout volunteer and start a troop. Get set up and trained, recruit girls, and be ready to go full speed ahead woth your new troop in the fall. Plus when you join now, you can take advantage of our unbeatable extended year membership offer for new members starting May 1. That's nearly 17 months of membership versus 12 for one low promotional price!
---
Help her unleash her inner leader. Check out ways to volunteer.
Prepare her for a lifetime of leadership, and be the mentor she needs.
As a volunteer, you'll introduce girls to new experiences that show them they're capable of more than they ever imagined. They'll each find their inner G.I.R.L. (Go-getter, Innovator, Risk-Taker, Leader)™ after all!
You'll be their cheerleader, guide, and mentor, helping them develop essential life skills and confidence that will last a lifetime. Imagine the excitement, the impact, the memories made—those are the moments you'll share at Girl Scouts.
Embark on an extraordinary journey of leadership!