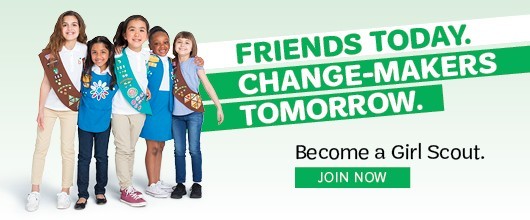 When you unleash your inner G.I.R.L., you can accomplish anything!
At Girl Scouts, the next opportunity to stand up, speak up, and take the lead is never far away. With us, you'll discover the G.I.R.L. (Go-getter, Innovator, Risk-Taker, Leader)™ in you, and watch her shine, again and again.
Will you find a sustainable solution to a problem in your community? Will you explore the great outdoors? Build a robot? Learn to code? Conduct an experiment?
With us, the possibilities are truly endless. Discover all you can be and everything you can accomplish when you have the right tools and a safe space to shine—and work together to change the world. 
So what are you waiting for?
 
Brand New to Girl Scouting? Consider our extended-year offer! For new girls, extended-year membership provides the ultimate opportunity to get started on their Girl Scout adventure in the summer and then stay for the whole year. And it lets new adult members complete their onboarding process and maybe even begin recruiting for their new troop in the summer.
Beginning April 1, 2020, the extended-membership fee is $35 and is only offered to girls and adults who have never been Girl Scout members before. That's an additional $10 over the $25 membership, and membership is paid through September 30, 2021!
Need to know more so you can decide what's right for you? Check out all the different ways to take the lead at Girl Scouts. Or, see all the exciting possibilities Girl Scouts offers for girls of all ages and choose your adventure.
Membership Financial Assistance
Membership Financial Assistance may be requested by the troop/group leader/advisor on behalf of the girl to cover GSUSA registration fee. Membership financial assistance is only given one time by the council. Troop/groups should make plans during their money-earning activities to assist each girl re-registering. A wise Girl Scout leader once said, "Parents should only pay for Girl Scout membership one time. The girls earn their membership in subsequent years through participation in Girl Scout product sales programs."  The first $25 earned by each girl should register her for the next year during spring renewal.  The same philosophy applies to membership financial assistance.
Steps to request membership financial assistance:
1.    Register the girl(s) online, stopping at the payment screen.
2.    Utilize the contact link at the top of the website.
        a.  Contact name and information is the person making the request;
        b.  select registration as case type;
        c.  enter "Membership Financial Assistance" as subject; then
        d.  enter the name(s) of the girl(s) needing assistance in the description box including short description of need.

For more information, please contact customercare@gsle.org or 800.644.7571.